I was recently invited by Healthline?to write my own review on four mental health chatbots. They were reviews on Talkspace, Joyable, Woebot, and Wysa. If you read the review, you can see that Talkspace and Joyable are not free, and are great alternatives if you absolutely don't have time to see a therapist one on one. Or, maybe you are not comfortable and would rather have your therapy sessions through the phone, Skype, or texting. These options are cheaper than seeing a personal therapist.
However, Woebot and Wysa are free and are not meant to be replacements for therapy. They both use CBT to keep you on track while you are in therapy. They are great to use in between therapy sessions. I personally liked Wysa better than Woebot.
I felt that Wysa was more personal, and there was a warmer feel as well. Wysa is an adorable penguin that uses CBT during your chat sessions and gives you excellent tips on anything that you are stressed about.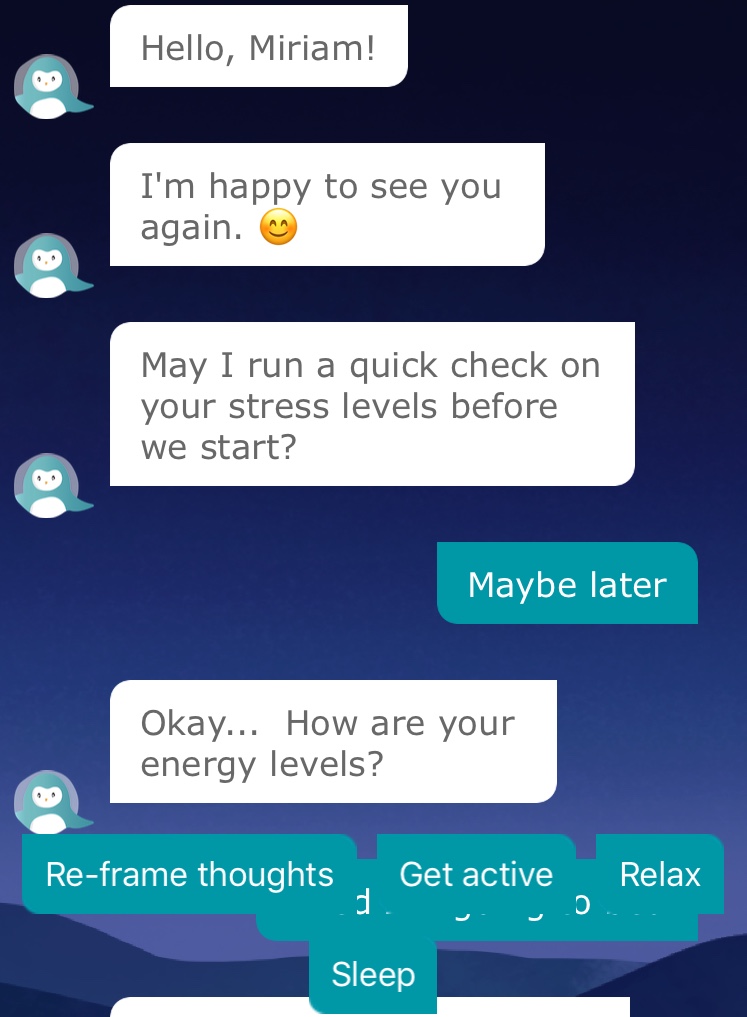 That was a snapshot of a chat session with Wysa as I checked in one evening when I was actually heading to bed. And by the way, if you tell the bot that you need help with sleeping, it gives you some great sleeping tips as well. These bots are great for those who also have mild to moderate anxiety and depression.
And again, like I said, these free bots like Woebot and Wysa are not meant to replace actual therapy. They are just good to keep you in check while you are already receiving therapy.
And even though these bots are just that- bots, total AI- you really do feel like you are talking with a really helpful and caring friend. They aren't perfect as they can always say things that don't make sense- but they are quite good for what they are!