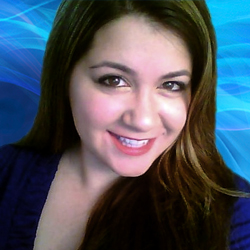 It was another great episode on Getting Social with Miriam. I just love the wide range of influential guests of various niches who I have had the pleasure interviewing. Before I talk about today?s guest, let?s talk about something. Many times in life we fall into many situations where we feel like we are at a crossroads and are unsure of what steps to take next. Sometimes we need reassurance of some kind that we are either doing the right thing or if a situation we have fallen into will get resolved one way or another. These are times when we are in need of spiritual or intuitive advice from another source, or someone who with a strong intuitive gift that has no emotional attachment to what you may be dealing with in order to be objective. And today, I will be talking to Lightwork Blogger, Intuitive Tarot Reader, Master of Interpreting Dreams, Reiki Practitioner, Certified Angel Healer, and Best Selling Author, Nicole Guillaume. Nicole is the owner of Guiding Echoes, where she nurtures people in their spiritual growth. Nicole is the author of the bestselling ebook, ?Decoding the Pendulum,? as well as several forthcoming books.
From an early age, Nicole had felt a strong passion to help others. In fact, her spiritual nature had guided her on a journey where she has worked with spirit guides and angels. She learned how to read tarot, to conduct reiki sessions, became a certified Angel Healer and so much more. This is why Nicole created Guiding Echoes, as a platform to reach out and share her gifts with other people so they can see the beauty and potential that lies within them.
It is Nicole?s intuitive grasp of the spiritual that enables her to interpret both the tarot and dreams. Even though she no longer directly lays her hands on people as she gives them guidance and prayer, Nicole?s clients are quick to praise the deep impact her guidance and lightwork healing have made on them. Being a lightworker gives Nicole the ability to directly work on the spiritual plane despite any distance barriers. It is part of Nicole?s joy to inspire, to bring hope to her clients and to give them purpose regardless of where they are.
Nicole grew up in an extremely religious family with a low tolerance for convictions which did not coincide with their own beliefs. Nicole credits her exposure to the wider world during her teen years while working for a national children?s radio station, which gave her the opportunity to meet and interview several celebrities as well as see what other spiritual traditions the world had to offer.
Even while trying to achieve the "American Dream" by working in the every-day world, Nicole knew she was called to a higher purpose which did not involve that. Confirmed by her training with several renowned spiritual teachers, and her own psychic instincts which had guided her whole life, Nicole created Guiding Echoes in 2013.
Nicole lives in the beautiful state of California with her boyfriend and dogs, and is enjoying life and loves what she does.
Connect with Nicole Guillaume-
Guiding Echoes – http://guidingechoes.com/
Facebook – https://www.facebook.com/GuidingEchoes
Twitter – https://twitter.com/NicoleGuillaume